New Era in Children Education: Blended Learning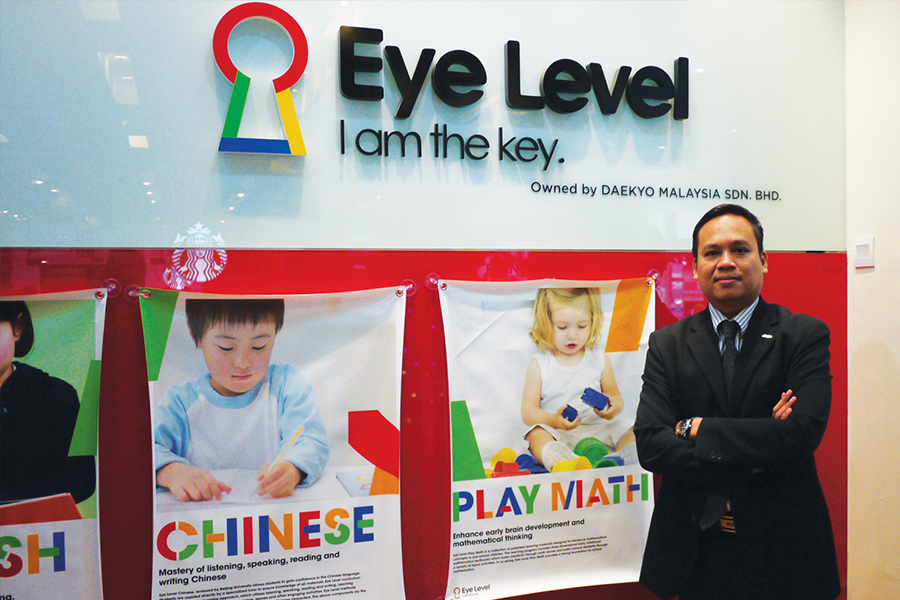 Eye Level is the leading provider of supplemental education in the areas of Math and English striving to teach and tutor children ages 3-16 in basic learning skills. With over 30 years of teaching experience and with over 2.5 million children enrolled worldwide, Eye Level is opening its doors to ambitious franchisees to create more proactive, thinking, problem-solvers of tomorrow.
Franchise Asia speaks to Daekyo Malaysia's Training Manager, Mr. Jofri Kamsani to find out what is in store for Eye Level, its students and franchisees.
■  What makes Eye Level's teaching different from any other supplemental learning centers in Malaysia?
As many already know, Eye Level is a supplemental education program which originated in Korea about 30 years ago and currently has over 2.5 million children enrolled worldwide. In simple terms, what makes our educational program different is our educational principle where students learn at their own pace. This step is important as we need to prevent a learning gap among students, even though learning could be taking place in a same place. This step helps the teacher to understand the learning needs of a student and create an individualized learning plan to make it most effective.
When there is no pressure to perform, the student is more relaxed and sees learning as fun which boosts their motivation to learn much faster. At Eye Level we base learning from a child's perspective, or simply put, seeing things from student's eye level which has been Eye Level's philosophy. Only when students enjoy their studies can they go forward in their studies.
We don't just emphasize on the learning of basic Math and English but on the development of critical thinking and problem-solving skills in our students. By doing so we help build our students' self awareness, confidence and enhance their creativity to become decision makers. Our aspiration is for our students to diagnose learning needs independently with the aim of crafting generation of problem solvers, critical and hence, lifelong learners. We call this system Self-Directed Learning, or for short, SDL.
■  This unique system of learning called Self-Directed Learning sounds interesting. Can you explain a bit on this?
Under the Self-Directed Learning (SDL) method, students will develop independent learning skills in our Eye Level learning centers. Instructors will provide guidance to students as they move throughout their individualized program. To find out where a student stands, we conduct a Diagnostic Test (DT) to provide insight into the student's ability and learning needs. This step is important to determine the best place to start the student in the Eye Level curriculum.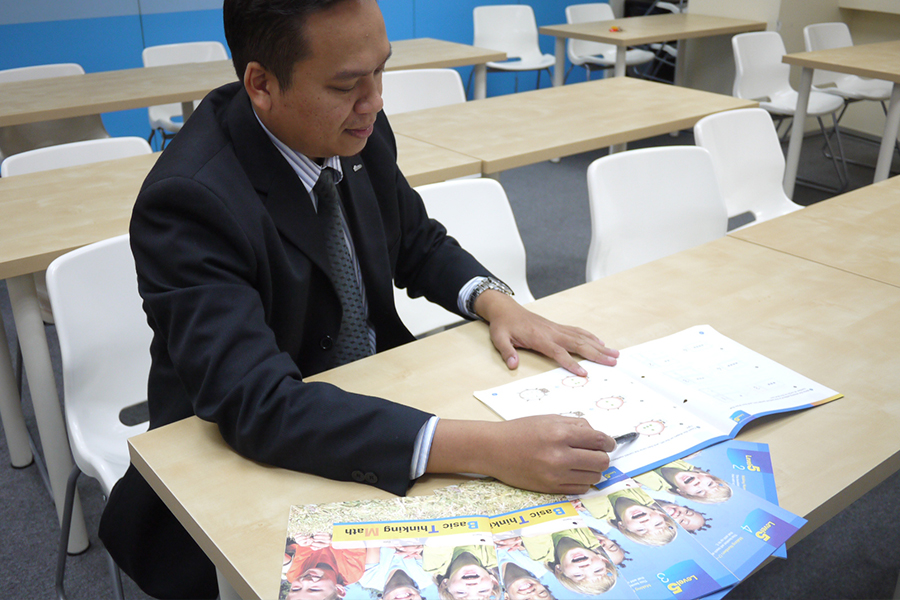 Before a student can proceed to the next level, an Eye Level instructor will give each student a level test to evaluate if he or she has achieved mastery, before moving on to the next skill set. Eye Level believes that SDL is the key to encourage students to be proactive and to learn independently without relying on teachers to spoon-feed them.
SDL is achieved through four distinct processes: Firstly, a goal is set for each student based on a learner's characteristics. The goal can be short, medium or long term. This will help students to have a clear goal and always strive to achieve the target.
Secondly, the right study plan is developed to be determined by the instructor on what to learn, how to learn, etc. Parents' continuous feedback is also gathered so that the study plan progresses smoothly. Thirdly, SDL will provide the right amount of academic coaching needed by students during the study period while still emphasising creativity thinking and proactive learning.
Lastly, instructors will evaluate learning outcomes by providing consultation and communicate with parents regarding their children's learning progress on a regular basis. Simply put, SDL method is a holistic learning system conceptualized to make a complete person out of our students.
■ Can you explain the typical SDL set up of an Eye Level classroom that benefits students?
We strongly believe that Eye Level Learning Center provides the most optimized study environment for SDL. At Eye Level we use three key elements to guide students towards taking the initiative to expand their learning beyond what the teachers have taught them in the classroom. The three key elements are Contents; unique learning materials aligned with Eye Level subjects, Space; the Learning Environment, and Mentor: Coaching a student in the form of individualized mentoring.
I have explained about Contents; our learning materials earlier. Space is where learning is done at a SDL-optimised library-styled desk that allows full concentration. A three-side covered library type desk helps to increase learners' concentration three times more than regular desks. Students can fully focus on their learning without being distracted by their peers or even the teacher. When coaching is needed, an Eye Level learning expert is always there to offer 1:1 mentoring.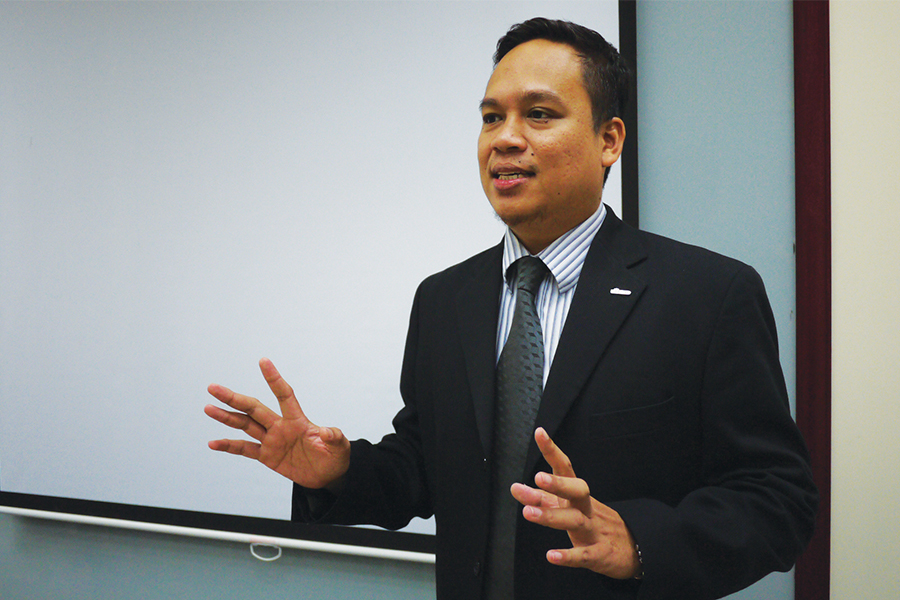 ■ Eye Level recently launched Blended Learning; Eye Level Math Online and Happy Talk programmes in Malaysia. Can you describe briefly about them and their benefits?
Yes, we've just launched our first online program under the Blended Learning platform. Happy Talk is a conversational English online program incorporating various visuals with animated characters to allow students to have fun while mastering speaking and listening skills. Happy Talk is targeted for children as young as 5 years old to 9 years old. It is an additional program to Eye Level English which we believe will help further boost our students' speaking capabilities. Besides the Happy Talk online program, Blended Learning program also includes Eye Level Math Online which serves as an enhancement initiative to help students to learn better, bringing learning environment to a whole new level.
In general, Blended Learning is a combination of face-to-face learning and online education. Face-to-face learning is also known as offline learning. Blended Learning is a mix of different learning methods brought together to meet our learning and teaching objectives. We believe an Eye Level student will enjoy the right blend of online and offline methods, making learning even more fun and engaging.
However, though we see a lot of benefits from online learning, face-to-face learning has a very important element that online learning lacks, which is the human touch since not everything can be learnt through computer monitors. Students still need instructor's attention and coaching, and make plan for their progression. The interaction is important for us to understand each and every child and thus make personalized planning to lead them towards SDL.
■ With so many learning centers around, why should a prospective franchisee take up a franchise opportunity with Eye Level?
In an increasingly competitive world, academic achievement is at the forefront of parents' priorities for their children. Among the recognitions received by Daekyo include K-BPI for 16 consecutive years in 2014, Korea's Most Admired Companies for 4 consecutive years in 2014 and Ranked #69 in Franchise 500 Companies awarded by Entrepreneur Magazine's Annual Publication in 2014.
What's better than to be with the best in the business of making kids smarter? If you desire a dream venture to make a difference for children, then Eye Level is the best business opportunity for you. We are the global leader in supplemental education in the areas of Math and English for good reasons too. With over 30 years of enriching experience in children education, we share our in-depth market insights and the best advices to guide your business successfully.
With single and multi-unit opportunities, a superior product, and unparalleled support, Eye Level is uniquely positioned as the smart choice for those looking to own a business that makes sense both in the short- and long-term. With Eye Level you can create a difference to your life and in the lives of the children.