In essence, Eye Level is based on an educational principle where students learn at their own pace. And when a teacher understands the learning needs of a student, the teaching are most effective. As a leading provider in supplemental education for Math, English, Eye Level learning centers strive to teach and tutor children ages 3-16 in basic learning skills.
One Eye Level Franchisee who has made a name under the Eye Level banner within just one year of operation is Ms Satine Lim of Eye Level Subang Bestari branch.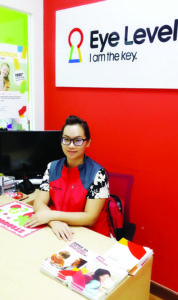 Why Eye Level Franchise?
When I was younger, I wanted to become my own boss or a business owner. I wished to be involved in something that can bring goodwill to our society. With that aim, I ventured into financial consulting for the past 10 years to educate people about asset protection, family protection and the importance of saving.
As I grew older, got married and have my own children, I became interested on children related business. My cousins were with Eye Level since 2006. Through them, I could see improvement in their math skills. Not only that, they also possess a very positive attitude in problem solving. When I was exploring children related business, Eye Level was the first in my mind. I love children and I believe every child deserves a bright future.
Education is the main key for children to achieve their goals and to be able to contribute back to the world. With a proven education system and market experience in Eye Level, I believe I could obtain guidance to run my own business although I did not have any experience in running a children enrichment center.
What I like most about being an Eye Level franchisee is the simple, easy and effective business system. I have no doubt on the effectiveness of Eye Level programs. After I attended the Eye Level Business Orientation, I was amazed with the successful franchisees in Malaysia. They have been the proven role models to me.
How Has Eye Level Supported In Your Franchise Route?
In the first few months, I think the major challenges were how to promote my center to my area and how to spread the word that a good learning system is available in my area. I hung banners and distributed flyers. As a result, I received positive response from the parents of my area.
The possibility of having 100, 200 or even 300 students is possible. Eye Level provides professional advice from setting up the center to center marketing and operations. Trainings are ongoing and they have been useful in equipping new franchisee as a successful entrepreneur as well as a center instructor. All I need to do is just attend the trainings and learn as much as I can to implement the ideas and advice is given to run my center fruitfully.
I am touched with the support that the Eye Level HQ has shown to me. They engage themselves in every center related issue. We have our own assigned Area Manager, routine meetings and the Eye Level family web portal to stay in touch with one another.
How You Became A Successful Eye Level Franchisee?
I am the key to making my center successful and to ensure more children are reaping the benefits of Eye Level programs. With the company's direction towards the Self-Directed Learning concept and Blended Learning system, I strongly believe that my center will be the first choice for parents in my area. What sets me apart from other franchisees is that my center's constant monitoring on our students' progress and ongoing consultation with parents.
An essential tip to be a successful Eye Level franchisee is one has to be fully committed in monitoring the existing and new students. Of course, quality instructors make a center flourish too. Lastly, always be positive and remember that you are "The Key" to a successful mindset.
How to Become An Eye Level Franchisee?
Anyone can be a franchise business owner. I always put myself in a child's shoes when I am in class with my students. Think like them, feel like them. Be fun, friendly and energetic to the students. When it comes to parents, I will be the key person to communicate with them on their children's behaviour in class and learning progress.
To those who are interested to take up the Eye Level franchise business, do not say "Yes" or "No" until you have attended the Eye Level Business Orientation conducted by Daekyo Malaysia. Be open-minded and obtain a full understanding on the business.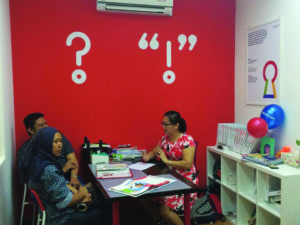 ---
For over 30 years in 20 countries, Eye Level has nurtured millions of young minds to excel academically in Math and English. Internationally recognized, we are one of the world's top educators in Self-Directed Learning, Critical Thinking Math and Blended Learning. Our learning methodology has produced over 2.5 million students worldwide to date, and still counting.
With the growing numbers, we are now expanding our network. Therefore, we are looking for capable and ambitious business entrepreneurs to come on board the Eye Level family.
Come meet us and embark on this journey to nurturing our future generation! Reserve your seats today!
Eye Level Business Orientation:
Dates: 8th/9th/29th/30th Jan 2016
11th/12th Mar 2016
Time: 10:30am – 1:30pm
For more information on Eye Level franchise opportunity, please contact 016-2622 767, email to carolina.keong@myeyelevel.com or visit www.eyelevelfranchise.com