The franchise business in ASEAN countries (ASEAN Economic Community) is currently expanding expeditiously, with several brands increasing branches in their home countries and others spreading their wings to foreign countries including those in ASEAN and the Middle East.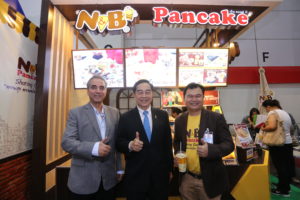 The franchise brands from Malaysia that have established branches in Thailand and have been successful in their operations are many including Secret Recipe with over 30 branches, Global Art & Creative (an educational brand) with more than 60 branches, the bakery brand Bapple Donut & Coffee, the educational brand, to name just a few.
At the same time, quite a number of franchise brands from Thailand have set up shops in Malaysia, such as BBQ Plaza (food), Black Canyon (coffee and food), Coca Suki (food), Mango Tree (food), Smart Brain (education), Doichang (coffee), etc.
Furthermore, many other franchise brands have shown tremendous interest in opening the market and finding investors in Malaysia, including Smart Brain (education), Chao Doi (coffee and bubble tea), GFA (coffee and bakery), The Waffle (waffle), N&B (crepe), Hokkaido (dairy products), etc., all of which have been successful domestically and strong enough at present to extend their brands to foreign countries.
It is noteworthy that all the franchise brands mentioned above are exhibitors in the Thailand Franchise & Business Opportunities 2016 (TFBO 2016), the biggest and foremost international franchise brand exhibition in ASEAN which has been organized for 11 years consecutively.
Participated in by both Thai and international investors, the event is organized by Diversified Communications (Thailand) Co., Ltd., and is an ideal opportunity for Malaysian investors and franchisors wishing to expand their businesses to Thailand. The 12thTFBO will run from 4-7 August 2016 at the Bangkok International Trade and Exhibition Center(BITEC), Bangkok, Thailand and expects to welcome more than 15,000 investors/visitors from 40 countries around the world.