VeganBurg is the world's first 100% plant-based burger joint founded in Singapore on 10 October 2010. Our mission is to inspire an excite the world to choose a plant-based diet as a form of sustainable living.
At VeganBurg, every meal mixes and matches fresh ingredients with GMO-free plant-protein patties, gourmet sauces prepared from scratch daily, and signature artisan buns.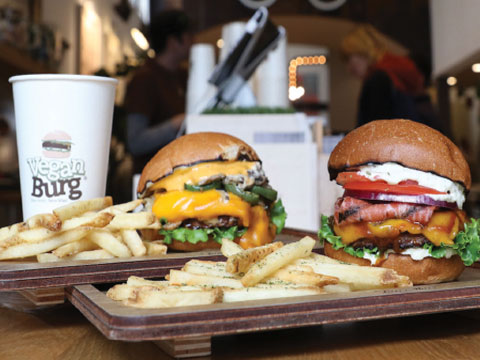 Every bite is not just a set of nutritional value numbers, it is a step towards am environmentally sustainable diet.
Why make VeganBurg unique?
8 years of brand and operational development experience
The world's first plant-based burger joint established in Singapore and USA
Serves a rapidly growing vegan market and shifting consumer preferences
Raw industrial safari-themed brand and design with a chic appeal to millennials
Sustainable fast food that can upsize your health and downsize climate change
Unique East-meets-West recipes developed by experienced R&D team, with seasonal specials throughout the year
Fresh produce and gourmet sauce are made in-house from scratch
Responsible & sustainable – uses eco-packaging to minimize ecological footprint
Strong marketing and operational support team in Singapore
Information:
Company Name: VeganFood Global Pte Lt
Address: 44 Jalan Eunos, Singapore 419502
Year Established : 2010
Country of Origin: Singapore
Number of Units Worldwide: 2
Website: www.Veganburg.com