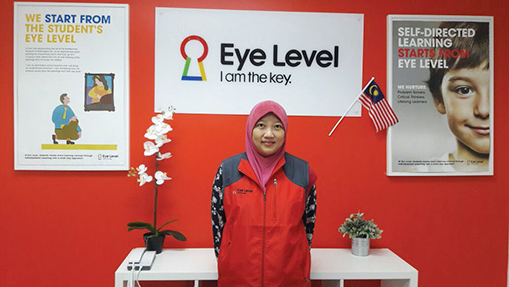 Eye Level begins with a core concept of having every child believe, "I am the key." Only when an educator sees the learning challenge from the child's perspective – the Eye Level – is he or she able to set appropriate goals and tailor a program to attain them, one successful step at a time. One such center that is making it happen in teaching this core principle is located at Section 9, Bangi, Selangor operated by Franchisee Umi Sabriah Bt. Haron.
■ How did you first find out about Eye Level?
My journey with Eye Level started when my initial intention to become a franchisee of a different learning centre in Malaysia was a letdown. I then found out about the Eye Level franchise. Upon attending the franchise orientation talk, I fell in love with the Eye Level programs. Looking back, I believe that the earlier experience was a blessing in disguise and God had better plans for me.
■ What made you decide to venture into the Eye Level franchise opportunity?
I love teaching and early childhood education which made me pursue a Diploma in Montessori Education after I completed my Masters in IT study. My friends and family members encouraged me to start a Montessori school to pursue my dream. However, without any experience in running a business, I felt that starting a business from scratch was too overwhelming. So, taking up a franchise would be the right decision. Daekyo Malaysia, the  ranchisor has been helpful in all aspects of the setting up my business.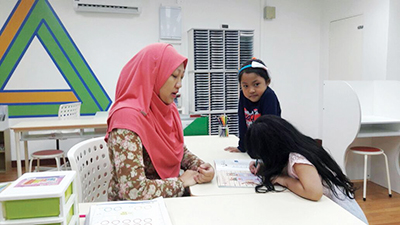 ■ When did you start operating this business?
I started on 25th July 2016, on my 37th birthday. I believe that it was the best day to create a new chapter in my life. I hope that in the following years, it will grow as one of the best learning centers in Bandar Baru Bangi and its  urrounding areas.
■ As a new franchisee, how has your journey in this business been so far?
It has been great and promising. I look forward to new challenges. I am still learning and improving on business management and communication skills. I have to manage my staff, parents and students. The experience can be overwhelming but when I see the faces of my smiling students enjoying their time in my center, I know that this is a worthwhile journey.
■ What are the challenges that you face throughout the set-up, the commencement and current operations of your center?
Initially, the main challenge was the financial constraint in the setup stage when there were some unforeseen expenses. Currently, some of the issues are hiring the right staff, overall center management and extra effort in marketing. Another challenge is balancing my business and personal time with family.
■ How do you cope with these challenges?
I am grateful for the support from my family members, especially my husband. He has been my pillar of strength, believing in my dreams and always encouraging and supporting me. To cope with the challenges in executing marketing activities, I did a lot of reading, asked many questions from entrepreneurs, other franchisees and Eye Level staff to gain confidence and encouragement.
■ What are the marketing and promotional tools which would work effectively to promote this business?
I believe that online and social media are effective. I am happy that Eye Level is active in online marketing. My strategy is to reach out to our target customers, which are pre-school and primary school students from middle to high income families. I placed flyers in restaurants, bookstores, residential areas and popular community park. Banner and buntings were used to create awareness.
The Referral Program by HQ was to encourage existing parents to promote the program to friends. Organizing events like award ceremony to appreciate students is important to enhance their learning experience here.
The bottom line, marketing should be done consistently and we must never stop promoting.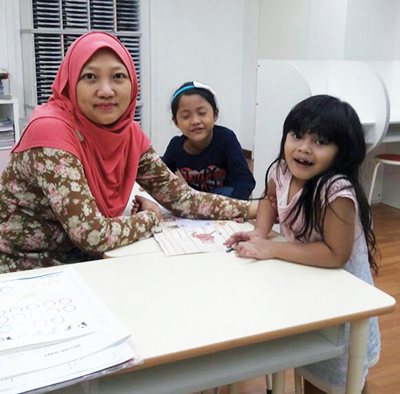 ■ What are the benefits and support that you have enjoyed from the business and the Franchisor?
All HQ staff members have been helpful. There were constant meetings to foster positive relationships. I learned a lot from other franchisees too. We are connected through social media, so we know that we are not alone, and we have each other to help and encourage us in this journey. The business gives satisfaction in my work life.
Everyday, I look forward to growing my center and giving the best to my customers. Financially, I have a long way to go, but as I successfully reached the monthly targets I set, I believe that I am on the right track.
■ What would you say are the Unique Selling Point of the Eye Level programs?
The Eye Level goal shapes the unique approach on how students learn. The individualized coaching system and self-directed learning are something new to some parents.
The Critical Thinking Math in the Eye Level Math program is a unique approach. Personally, I have not seen any other learning centers in Malaysia that offer such comprehensive and structured syllabus in critical thinking as what Eye Level offers. The Eye Level English program has a comprehensive approach to reading and writing through a step-by-step comfortable pace for students to improve their command in English.
■ What is your advice to those who are interested to take up the Eye Level franchise business?
To be successful in the education field, I strongly believe that you must have the passion in teaching and early childhood education. You have to learn continuously, be humble, have an open mind, remove any negative perspectives and treat others kindly. Learn and read a lot on various related topics, be it early childhood education, entrepreneurship, marketing, business management or sales. You have to keep yourself updated on current issues
in education and discover how Eye Level can be a part of the education players in Malaysia.
My final advice, if you do have the passion, just go for it! Step out of your comfort zone, chase your dreams and turn it into reality.
■ How do you see yourself in this business in 5 years' time?
My goal is to become one of the best centers in Malaysia with 300 subject counts or more.I also aim to develop my teaching assistants to become leaders in their work. I wish to continue nurturing self-directed, highly motivated and confident students.
For more information, kindly contact Ms. Carolina Keong
Franchise Recruitment & New Center Support/Manager
016 2622 767 or email carolina.keong@myeyelevel.com