Nick Vujicic needs no introduction. Despite born without arms and legs, Nick hasn't allowed his physical challenges to keep him from enjoying great adventures, having a fulfilling career and loving relationships. His inspirational messages have changed the lives of millions on how purposeful they see their lives thereafter.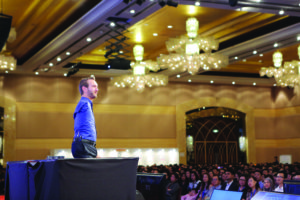 The NYT Best Selling Author, International Speaker & Entrepreneur was in Malaysia for the SUCCESS 2016 event held from 29 to 30 July at One World Hotel, Petaling Jaya.
Apart from Nick Vujicic as the main speaker, Success 2016 also included Aaron Sansoni, The World's #1 21st Century Sales Authority, Global Business Mentor, Speaker & Author; Adrian Wee, Asia's #1 King of Interior Design, Master Coach & Property Entrepreneur; Bryan Loo, Managing Director of Loob Holdings Sdn Bhd & Chatime Malaysia; Gerry Robert, Bestselling Author, Mentor & International Speaker; JT Foxx, World's #1 Wealth Coach; Kathlyn Toh, Director, Chief Trainer & Coach Company: Beyond Insights Sdn Bhd; Peng Joon, World's Leading Authority in Wealth Creation Online; Roger Hamilton, Futurist and Social Entrepreneur; and Timothy Tiah, Chief Operating Officer of Netccentric Ltd and Nuffnang.
In this 2 day transformational event, attendees had a chance to:
Develop a winner's mindset that will set one apart from everyone.
Break free from the limitations in one's life that are holding him or her back.
Learn to achieve success and balance in all aspects of life.
Conquer the economic challenges and reinvent one's self in today's dynamic marketplace.
Discover different passive income streams and seamlessly integrate them to multiply his or her income.
Recognise the fundamental key values & beliefs that will then reignite one's passion and purpose.
Apply the essential skills used by the top 1% of entrepreneurs to strive, achieve and excel.
Success 2016 is designed to give everyone an equal opportunity to achieve amazing results in their lives, career and business wise. We connect internationally renowned speakers and top experts in business, investing, and personal development with our participants. On top of that, we aim to encourage our participants to take the leap of transformation for the better through inspiration, and equipping them with the essential knowledge for wealth creation, health and life-fulfilment.
You can also follow the Success Resources Facebook page at:
https://www.facebook.com/srseminars