Luchando por el sabor! (We're fighting for flavour!)

The first Mad Mex store opened in December 2007 in Crown Street, Sydney to long lines of eager customers. Since opening, Mad Mex has seen sales increase every quarter. Now Mad Mex has stores in Melbourne, Brisbane and Sydney. Our vision for the business and brand is to grow Mad Mex nationally and to share our unique Mexican food with hungry Mexican fans everywhere. By remaining true to our founding principles: Fresh and Healthy, Fast and Delicious, Authentic and Exciting, we are achieving our goal of creating Australia's best respected Mexican brand.
Tired of industrial fast food combo meals? Sick of greasy, cheesy Mexican? Yep, so is everyone else in Australia. Mad Mex serves gourmet Baja style Mexican food that's healthy, hearty and the only thing it's heavy on is flavour. The freshest product, flavour filled salsas, authentic slow roasted and grilled meats… wrapped up in our fresh tortillas or tacos. Baja-Mission style Mexican food emerged in the US as California's standards of quality were applied to Mexican flavour, spice and style. Add to it a selection of imported Mexican beers, cocktails and soft drinks and it's Mexican food with attitude!
The Baja Mexican trend first took off in the United States where there has been explosive growth over the last 10 years. Brands like Chipotle, Qdoba and Moes are spreading Mexican to the masses . Aussies love travel, so many of our customers are familiar with Baja-Mission style cooking from trips abroad, and they're overjoyed that Mad Mex is here in Australia serving authentic Baja-Mexican.
El Defendedor del Fresco! We're the defender of freshness. Serving gourmet restaurant quality food in a fast paced environment, Mad Mex is ideally positioned neatly between high end restaurants and food court operators. Mad Mex enjoys the best of both worlds! Fast enough to create a high volume takeaway business but a unique and high quality product offer that is sufficient to command a premium price point. Customers love Mad Mex, with a staggering 96% of them saying that they're definitely coming back once they've had the Mad Mex experience.*
*Customer survey conducted in July 2009 at Macquarie, Darlinghurst and CBD stores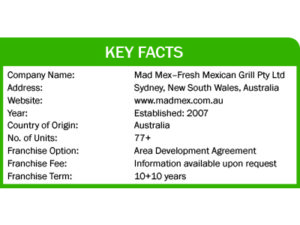 For more information please contact Troy Franklin of World Franchise Associates at troy@worldfranchiseassociates.com or at +60192101909.