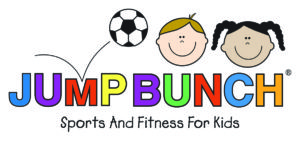 US brand JumpBunch was founded to combat this childhood obesity epidemics, and the recognition that children need plenty of exercise in their lives with a very low-cost formula for providing sports and fitness activities to get even the least motivated children up on their feet exercising. A home-based business, JumpBunch franchisees offer classes at existing facilities such as preschools, daycare facilities and public and private schools.
By tapping into other facilities' existing customer bases, there is very little sales and marketing activity required to run a JumpBunch business. For the facility owner JumpBunch is an attractive service because it is often something they are not trained and equipped to offer themselves. Even schools are looking for cost-effective alternatives to running their own gym classes, creative a fantastic profit center for JumpBunch franchisees.
JumpBunch offers a range programs suitable for children aged between 15 months and 12 years old, including weekly toddler classes, pre-school or daycare sessions for 2-6 year olds and its JB Sports classes which bring structured physical activity back into the day for children aged 6-12. In the USA a growing number of private schools are contracting JumpBunch to provide JB Sport fun and physically demanding. Additional revenue streams are available by running programs for summer schools and at birthday parties.
JumpBunch offers its franchisees a superior franchise opportunity of a mobile concept, where no teaching or sports experience is necessary nor required, an online "Extranet" to share questions, ideas, suggestions and solutions and conferences to strategize directly with JumpBunch USA staff who share a similar passion and vision for their business.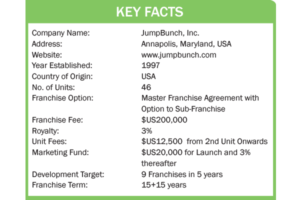 For more information please contact Troy Franklin of World Franchise Associates at troy@worldfranchiseassociates.com or at +60192101909.