Franchising and Licensing Asia (FLAsia) 2018 held its 13th run from 18 till 20 October at Marina Bay Sands Expo & Convention Centre, hosting more than 200 brands from 17 countries and regions Asia Pacific, North America, Europe, as well as the United Kingdom.
2018's edition featured 5 national pavilions:
Japan
Singapore – Led by Franchising and Licensing Association (FLA) Singapore
South Korea – Led by Korea Agro-Fisheries & Food Trade Corporation (aT)
Taiwan – Led by Taiwan External Trade Development Council (TAITRA)
United States of America (USA)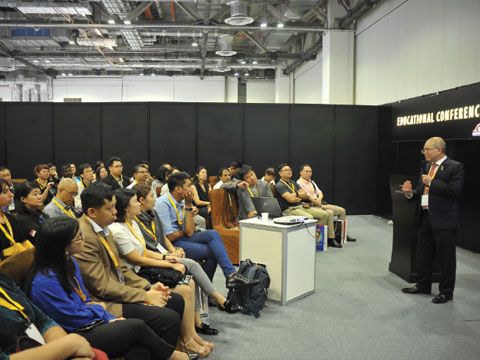 The variety of exhibit categories represented include the popular Food & Beverage categories, to Beauty & Wellness, Health & Fitness, to Printing/ Printer Consumables, Real Estate/ Shopping Malls & Retail Space categories and etc.
Franchising as a business strategy, leveraging new technologies to grow
As evidenced by the results of the FLAsia 2017 Visitor Survey, growing numbers of entrepreneurs and potential investors are seeking these non-traditional franchise concepts that have the potential to grow with technology.
FLAsia 2018 featured business concepts that break out of the usual Food & Beverage, Education, and Health & Fitness chains.
One such exhibitor was Globbing an international shopping and shipping platform and solutions provider with warehouses in the United States, United Kingdom, China, Germany, and Russia.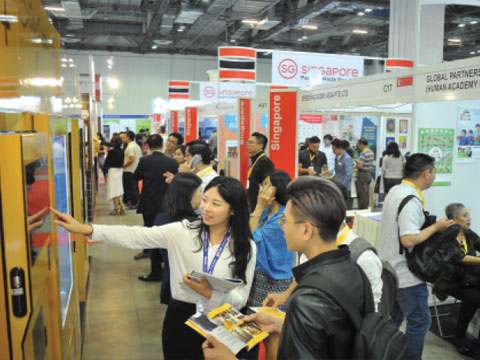 Participating for the first time in FLAsia, Third Sense joined the Europe Pavilion to promote a unique channel of customer attraction – scent marketing. The exhibiting team indicated that they are "confident that such an experience (at FLAsia) will be useful for the development of our company and companies of new partners".
Kalms, with 53 years in the gifting industry, branches out to automated retailing as a means to lower real-estate and labour costs, as well as to stay technologically competitive to "future-proof".
Educational Conference, Franchising & Licensing Clinics
This year, FLAsia also introduced one-to-one consultations by experienced local business and franchise consultancy firms, as well as IP ValueLab, the enterprise engagement arm of Intellectual Property Office of Singapore (IPOS), for visitors via the Franchising & Licensing Clinics.
Visitors received advice, assistance and connections to local experts and resources on franchising, licensing, and intellectual property (IP) strategies during these sessions.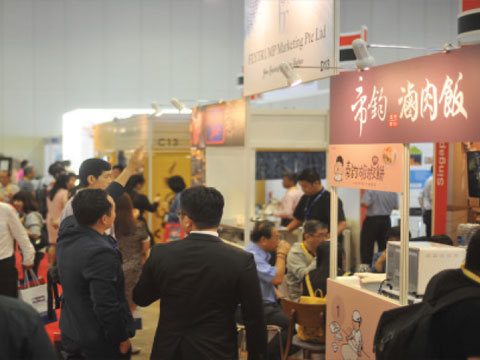 The ever-popular Educational Conference returned this year where visitors can gain better knowledge on IP and legal aspects of franchising, and pick up tips and tricks from the success stories of FLAsia's exhibitors. Notable IP lawyers, Certified Franchise Executives and Practising Management Consultants spoke at the conference.
Franchising & Licensing Asia (FLAsia) return in 2019 from 24 till 26 October.