With over 30 outlets since starting business in 2004, Juice Works is committed in helping Malaysians lead a healthy lifestyle with its special blend of fresh fruit juices and healthy smoothies. Juice Works Malaysia is on an expansion mission, and the best news is that you can be part of its franchising growth.
■ What makes Juice Works an attractive franchise to own?
Health is always a priority for every individual and venturing into a business that promotes health has proven to be the right choice for Juice Works over the past 14 years. By meeting the objective of owning a sustainable long-term business through its juice bars, Juice Works Malaysia intents to create impacts in encouraging people to make healthier choices when it comes to the food they consume. Juice Works Malaysia foresees that a business offering healthy goods will be sustainable for a long time in the F&B industry, especially in Malaysia where its younger population is potentially getting more health conscious.
■ What is the primary objective of Juice Works franchise?
Juice Works started business in 2004 but only started franchising from 2012. Juice Works believes in gradual and sustainable growth. Hence, it selects each and every Juice Works locations deliberately. Same goes with selecting franchisee as its franchisees are treated as part of Juice Works family. Its objective of franchising is to create a platform for enthusiastic entrepreneur to start their own business by leveraging on its business module; covering as much areas as possible, so that its healthy juices and smoothies are easily available nationwide.
Juice Works currently has 30 outlets in Peninsular Malaysia and is still expanding, especially to East Malaysia this year. Hence, area franchise opportunity is open for this area. Juice Works is keen to meet prospective franchisees for Penang, Johor Bahru and Klang Valley. Its long term goal is to venture into international franchising.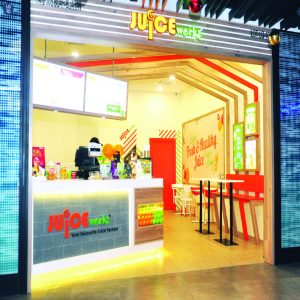 ■ What types of investment model options are available for prospective franchisees?
Juice Works offers three types of models: Single unit franchise model, Multiple unit franchise model and a Special franchise package for those who are able to take on multiple unit model.
■ What are the criteria to become a successful Juice Works franchisee?
Juice Works treats its franchisees as business partner and part of the Juice Works family. Therefore, Juice Works looks for people who firstly love their health and passionate in educating others on the importance of making healthier choices; they should be Committed, Result-oriented, Service-oriented and Pleasant.
Those who are looking into challenging hands-on experience; without minding getting their hands dirty operating a rewarding business opportunity, Juice Works is the place. If you are passionate in F&B industry and enjoy meeting people, and ultimately are able to meet the minimum financial requirement to own the business, Juice Works should be your choice.