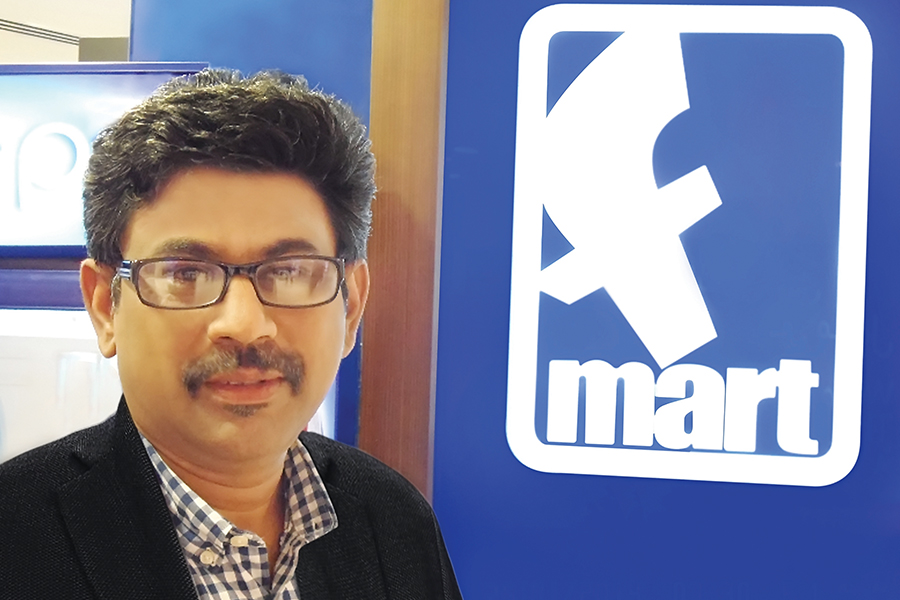 Halal is among the fastest growing industry in the world. With countries now competing to become hubs for the Islamic economy, the Halal industry is coming into renewed focus. Realising the large potential of the Halal business and its unique position and strength, Malaysia has positioned itself to become the Global Halal Hub. This has indeed attracted various FMCG players including the renowned Emaco Investments LLC. of Dubai, UAE to open Fmart, a chain of premium convenience stores in Malaysia this April.Fmart is a chain of contemporary convenience stores offering a wide range of FMCGs with a special focus on Halal produces. By Halal, it is definitely more than just meat. Alongside Halal goods is a host of other ethnically traditional branded foods. There is an array of wonderful selection of groceries and supplies from rice and flours, dried goods, tinned fruits and vegetables, fresh Halal meat (plain and marinated), frozen goods, fresh produce, spices, cookies/candies, groceries, cosmetics and household supplies as well. Fmart also offers a variety of high quality pantry items, including bakery, barista and other fresh as well as heat & eat eatables and a wide range of hot & cold beverages, other consumables and much more. What is most unique about Fmart is that all items offered are Halal. Franchise Asia speaks to Yoonus Mohamed, Chief Executive Officer of Fmart to find out more.
■ Emaco Investments LLC is a well-recognised business organisation in the Middle East. What is its mission to venture into the convenience store market?
Emaco Investments LLC was founded in 1968 and is considered to be among the pioneers in mass retailing in the UAE. We started out as family owned chain of supermarkets in 1968 and eventually diversified across related business fields. Currently Emaco Investments LLC is involved in a wide range of commercial activities with business interest in general trading, supermarkets, restaurants & catering services, transportation, foodstuff & vegetables, and many more with a network of offices in various countries.
The driving force behind our business is our strong belief in fair and transparent engagements with our clients across the globe. In Malaysia, we'll take on the position of a premium chain of convenience stores offering a wide range of diverse FMCG products including a dedicated section for only Halal produces of premium quality to cater to a versatile and diverse target consumer base consisting of Muslim and Non-Muslim followers of the Halal concept consisting of Middle Eastern, Asian and European expatriates living in Malaysia. Already having a background in restaurants and catering, we aspire to distinguish ourselves from the competition by introducing many proprietary and private-label items of our own Emaco food concept shelf. The company has already assembled a 'restaurant-quality' team that is introducing more fresh foods to the chain.
■ How many Fmart outlets are there currently and how many have been planned, including for Malaysia?
Fmart collectively has 11 stores to boast of and the company continues its accelerated growth, expanding in the Middle East and Asia. Key growth markets for Fmart include Gulf Cooperation Council (GCC), Malaysia, India, Indonesia, Sri Lanka and Thailand. In the UAE alone Fmart has around six stores in Dubai, with the first outlet being a 3,600 square feet shopping space at the famous Burj Khalifa, the world's tallest tower, two in Abu Dhabi, and two coming up in Sharjah. We plan to have 15 such stores around premium locations in Dubai alone and at least three outlets each in the other six Emirates. Outside of UAE, we have already initiated association with major FMCG players in the Kingdom of Saudi Arabia.
In April 2015, along with Malaysia we'll also launch first three stores in India, followed with seven more to cover the major metro cities across India. In Malaysia, we are highly ambitious to open 100 outlets in the next three years with parallel interest of at least 10 stores in Sri Lanka. We've agreed to open 300 outlets in Singapore and Indonesia within the next five years. We are also eyeing New Zealand, USA, Australia and Europe – to reach a global stretch of 10 countries having the presence of Fmart.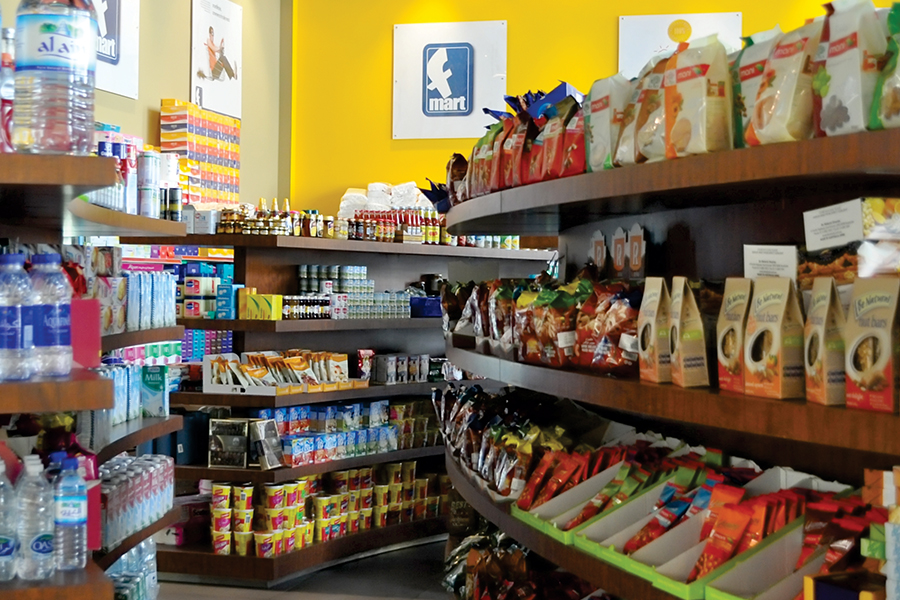 ■ There are already many convenience store operators in Malaysia. How different is Fmart from the rest?
Unlike many established convenience stores in Malaysia, Fmart has a unique offering of premium Halal products. The prices will be competitive and reasonable, considering premium Halal products, many of them being imported. We will have all sorts of Halal items from A to Z, including meats, traditional foods, cosmetics, toiletries – just about every item needed by all strata of consumers across varied buying potentials. Go into an Fmart store and you'll discover a new shopping experience, where quality products and wide choice combine with prices that never fail to astonish first time shoppers.
All products in our worldwide stores whether baked beans, biscuits or delivered fresh fruit and vegetables, are sourced from the best suppliers. Our range is forever changing with hundreds of new products introduced from across the world. Our niche lies in lentils and spices, Halal meat and poultry as well as your everyday essentials. Our convenience stores will also include eateries ranging from popular brands to our very own private-label items of our own food concept shelf. To our knowledge, no other convenience store offers a place to eat in their premises.
Soon, we'll also offer door-to-door delivery system, and we'll be located in shopping complexes as well as selected residential areas to meet the needs of the customers. A franchisee who does not want to sell non-Halal beverages may not be able to remove these items due to contractual obligation. With a Halal-concept convenience store like Fmart, there is no compulsion to sell any non-Halal product. We believe that along with all interested entrepreneurs this Halal-concept will also attract and encourage more Muslims to take up the Halal friendly Fmart franchise.
■ What is Fmart's total investment plan to operate in Malaysia?
Fmart plans to open at least four stores in Malaysia this year. Each Fmart outlet will need approximately USD300,000 each and a franchise model may also be followed. In the future Fmart's store count can eventually consist primarily of both owned and franchisees run chain globally that can license associates to operate under the Fmart brand.
■ If a franchise model is initiated, what will be the investment to operate an Fmart business?
Fmart offers three flexible franchise models with different investment plans to cater to different segments of society. The area required varies from 300 sq. ft. to 2,000 sq. ft. These include:
1. Fmart Store: 1,000 to 2,000 sq. ft.
Total investment is USD150,000
2. Fmart Store: 500 to 1,000 sq. ft.
Total investment is USD100,000
3. Fmart Kiosk Model/Shop-in-shop Model: 300 – 500 sq. ft.
Total investment is USD50,000 – USD75,000
We plan to have at least four company-owned outlets in the Kuala Lumpur region this year. Our franchise model is a low investment business opportunity that focuses on product development, innovation and brand building. What we can assure our franchisees is that we can offer a better lifestyle if they operate an Fmart convenience store. Our strategy to follow a Retailer Initiative will allow a store operator to align his or her product assortment with the store's customer preferences, while a proprietary Retail Information System will be created to simplify inventory management for store operators and an advanced distribution system ensures the freshest possible product assortment. We ensure 100% profit for the franchisee. Royalty fee will be on a fixed basis. Our margin will be derived from the products supplied. Our complete turnkey Convenience Store Development Support System is designed for you in every step of the way as you build your Fmart business. Our comprehensive support system will include site selection, project management, consolidated equipment package, vendor anagement and others.
■ What is your message for Fmart franchise aspirants?
Franchising is no longer the American success story. Independent, locally owned small-businessmen and women, including veterans and minorities I might add, who own and operate franchise establishments are growing faster than big businesses. They are creating more jobs at a faster pace than other businesses and they are also producing more sales growth than other businesses. If you're already a convenience store operator and would like to convert it into an Fmart convenience store, please talk to us and find out how we can help turn your business around with our support system. No frills, just thrills of running your own successful business.
If you ask how Fmart convenience store stands out from the rest in the market,
First & Foremost, it's our positioning – Strong foothold in UAE and presence in the Middle East, India and in the Islamic Hub of Asia – Malaysia.
Our Uniqueness; we are a premium Halal convenience store. There is none in the market in Malaysia and as far we know, in the world too. Second, the presentation of our brand – we carry 60 percent of products from Malaysia while 40 percent are imported; sourced from all over the world. Take our word for it; you wouldn't have seen a collection of Halal products in one convenient location like you get at Fmart.
The ease of doing business with us. With almost 46 years of experience behind us, we have made running a business an art – straightforward and effectively simple, yet result oriented.
BOARD INTRODUCTION
Mr E. Mohammed Soopy: Emaco Investments Co LLC, A 300 million dollar business company as we know today has seen a journey of 45 years. The inception of Emaco Group took place in the mid 1970's when Mr E. Mohammed Soopy set up his first venture of family owned business of supermarkets chain. At that time the global FMCG market and distribution was still dominated by a few multinationals. He is amongst the few pioneers in the retail distribution industry in UAE who has witnessed the desert country grow and eventually blossom into a global trade and financial centre of today. Mr E. Mohammed Soopy founded Emaco Group initially under the brand name Families in 1970's and diversified the business further. He is an Indian national; born in 1952. He is an expert in Retail Management along with Certifications in Quality Management to his credit. He believes there is no substitute for hardwork, and even to this day ensures he spends at least 7 hours in a day in the office personally interacting with his workforce. Mr E Mohammed Soopy is a Business Leader, Professional Speaker and a True Entrepreneur with a passion for developing corporations and individuals. He is the founder of several companies and as a person, Mr E Mohammed Soopy is known as a highly motivated, driven and knowledgeable person who is always trying to outdo himself and his environment. With a clear mindset of always "thinking outside the box", Mr E Mohammed Soopy has been able to produce remarkable results in every business venture he has taken up in the last 45 years. After successfully venturing into diverse businesses spanning across supermarkets, convenience stores, hospitality, restaurants and catering, technical services, facility management etc in the UAE, Mr E. Mohammed Soopy now plans to go global targeting the GCC and APAC region to start with and then move westwards.
Yoonus Mohamed: Driven by creativity and spirit, Yoonus is a successful entrepreneur with a 'must-have' business sense, funding, detailed plans and countless resource optimisation expertise. Yoonus is a very passionate leader with first class communication skills and a long track record of successful entrepreneurship. Born in a retail family and learning the business from his father's ethics, his high level education and extensive knowledge of current economic, social and regulatory issues with the GCC market and trends are highly commendable. He is an inspiring and motivated leader with first-rate interpersonal skills and the ability and passion to develop the vision of the company. Currently one of the youngest successful CEOs in the UAE, his aspirations have given him a desire to explore and create new business models and brands with an ongoing learning of the market trends, now ready to take on the Malaysian market space!