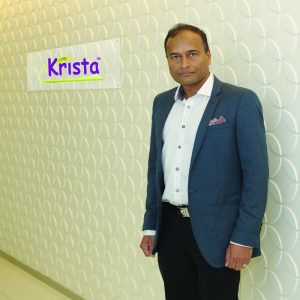 As the largest kindergarten chain in Malaysia, Krista has been providing a brighter future for children with a solid foundation on which to build their lives over since 1996. Dato' R. Rajendran, Founder and CEO of Krista Group of Companies, the franchisor of Krista Education Programmes, explains on what it takes to be a leader in the field creating groundbreaking programme for children as well as Krista franchisees.
■ Could you tell us why and how you started Krista?
Krista was started 22 years ago as there was a big need for quality kindergarten and childcare services and education in the region. I had the knowledge and expertise in the franchise business attainted from the United States and back then franchise was still relatively new in Malaysia. So the Krista brand, philosophy and concept was created so as to provide a brighter future for children by giving them a solid foundation on which to build their lives. The intention was also to assist aspiring entrepreneurs by giving them a profitable business opportunity coupled with a rewarding career for a relatively smaller investment. Since then, we have seen two recessions and I am proud to say that most of our centres have stood the test of time.
■ Can you describe briefly about Krista, the Krista Preschool Programme and how is it different from other early childhood educations?
"Krista" comes from the English word, 'Crista' which is a biological term associated with the brain. Its vision is to become the country's leader in promoting and supporting early childhood education activities towards making Malaysia a renowned centre in this field. I am proud to say that Krista is one of the Malaysia's first (if not the first) franchise brand recognised and registered with the government under the Franchise Act 1998. Then came other early childhood programmes. But I have high respect for all the industry players as we all play an important part in the nation-building process.
■ Krista CAPABLE Programme is a unique initiative to open the mind of a child. How does the programme function?
The Krista CAPABLE Preschool Programme has been purposefully developed for use in all Krista centres in Malaysia and internationally. The word 'CAPABLE' is derived from the first letter of the seven components of the programme, namely Child-centred learning, Acquisition of knowledge, Practical experiences, Assessment provision, Benevolence inculcation, Learn through and to play and Exploratory endeavours.
This unique preschool programme is an all-encompassing programme that guides the child within the four main segments of individuality, the effective acquisition of knowledge, character building and the achieving of competency as preparatory groundwork for a successful lifelong learning process.
The programme is geared towards providing a springboard for every child to become a well-balanced and a 'total' person in his or her later years.
At the moment, this programme is carried out by our 800 Krista teachers who are trained and certified on a regular basis. Since Krista opened its doors to young children in their early childhood years 22 years ago, more than 100,000 of them have benefited from the wonderful programmes and meaningful activities carried out at Krista centres throughout the nation. Currently, many of them have already graduated from the universities and are pursuing their careers.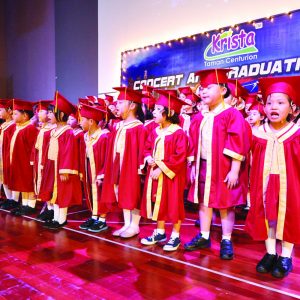 ■ What is Krista Workplace Childcare Centre programme that is said to help create and sustain a dynamic workplace for corporations?
I must say that we have positioned ourselves to be the leader in guiding companies to introduce such services for their employees besides operating various workplace childcare centres and kindergartens throughout the nation. Krista programmes are used at CIMB KL Sentral, Menara Bumiputra Commerce, Air Asia's Corporate HQ in KLIA, Felda and Petronas in Bintulu, to name a few. Companies providing daycare services in the workplace can have many benefits and among them are the boosting of employee morale, reduction in absenteeism and the lowering of staff turnover.
■ What are the opportunities for prospective franchisees in Krista Franchise Programme and what are the procedures in becoming one?
The Krista network of franchisees has expanded to some 100 today and is still growing. One cannot help but notice that factors such as affordability, the assistance rendered in easing the setting up of the business, and sensible flexibility without having to compromise on quality are some of the reasons behind such growth. It is a 'step-by-step' tested and proven franchise programme that caters to individuals from all walks of life.
Today, interested individuals are able to choose from a variety of the Krista franchise business models in the form of kindergarten centres, childcare centres, enrichment centres or even work place centres. The Krista Franchise Programme is open to all persons who have a passion for working with children and have met our minimum standards pertaining to qualifications, commitment and financial resources.
■ Krista celebrated its 22nd anniversary in 2018. Can you tell some of Krista achievements so far?
I would attribute Krista's strong staying power in the business to the dedicated team in the Krista HQ and all the passionate Krista franchisees who believe in this 'Edupreneurship' programme.
Besides winning two important awards recently, the 'Best Kindergarten Programme' and 'Best Kindergarten Franchise Programme', Krista has organised many events and activities for the benefit of the Krista children and Krista centres at national levels.
Some of the recognitions for the achievements came from the Malaysia Book of Records and currently Krista has secured 9 national records: Biggest Hand-made Nursery Rhyme Book, Longest Recycled Colour Pencil, Longest Painting by Children, Largest Kindergarten Chain, Largest Collection of Art Pieces by Children, Largest Musical Performance by Special Children, Longest batik Painting Done by Children, Longest Calligraphy Painting by Children and Biggest Collection of Patriotic Art Pieces. However, our biggest achievement and satisfaction is seeing Krista students excel in their primary, secondary school years and beyond.
■ What are your dreams and visions for Krista?
We want to be the leader in the industry but our ultimate dream and satisfaction will be to see each and every Krista child from Krista grow up to be a talented and successful person who can make their nation proud. As far as our franchisees are concerned, we also want to see them succeed in the Krista business endeavors.
■ What keeps you motivated to push forward and keep going?
In Krista, what motivates and pushes me is the support and confidence that I get from many Krista business operators, principals, teachers and parents as we go all out to provide the best for our children. It is also nice to hear parents' positive comments about their children's success. Many Krista franchisees are financially successful and that is also encouraging.
■ What is next for Krista Group?
We are planning to set-up some 20 new outlets within the next 15 months, own as well as franchise outlets. We are also looking at opening up international preschools and schools in neighbouring countries namely in Indonesia, Vietnam and Cambodia. And for a start we have already made inroads into the Indonesian market. Engaging more of its Krista Corporation Limited's (UK company) product and services in the South East Asia region is also in the pipeline.
■ What is your message to the business community and prospective franchisees?
One has to be passionate about what he or she is doing. Don't give up so easily. Also, it is important to surround yourself with positive and talented people, and people who can make good things happen, as you can learn from them and embrace them.
Be an inspiration to someone. If you can be an inspiration to someone, your life can take on a great new direction and change. Your life can become more meaningful if you can inspire and motivate someone to excel or overcome a problem. Never underestimate yourself. If your actions can inspire others to dream more, learn more, do more and become more, you are a LEADER.
■ What is your take on 'Success'?
Success has many meanings and examples. To be the top franchisee is a success, to be the top sales person in the company is a success, to be the best in class is a success, to win a race is a success, to be the wealthiest in a group is a success, to win a million-dollar contract is a success, and to win an award is also a success. These successes are even sweeter and meaningful if you are passion driven, and if they are all won through hard work, determination, intelligence and with upmost integrity and professionalism.