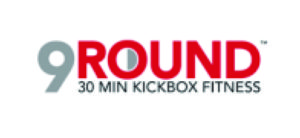 "Enthusiastic high energy personalities are what makes a 9Round location successful," says Shannon 'The Cannon' Hudson, former kickboxing world champion and founder of the fitness kickboxing workout club which has established over 200 franchised locations across 39 states in the USA.
Established in 2008, 9Round is a network of specialized fitness centers dedicated to serving members who want a unique, fun and proven workout that guarantees results. 9Round offers traditional 'old school' boxing and kickboxing fitness programs that incorporate functional, interval, cardiovascular and circuit training regimens.
"The programs consist of a proprietary system of nine challenging workout stations," says Hudson. "9Round delivers total body results in a quick and convenient 30 minute workout with no class times and a trainer on hand every step of the way." The convenience of 9Round's circuit training model for its classes make it ideal for members who want flexibility in their workout schedule. Whether the circuit is started in the morning, afternoon or evening, it works every muscle in the body simultaneously, introduces a new routine daily and is driven by a trainer to maximize results.
"Each of the nine rounds is different, challenging and fun," says Hudson. "From learning how to jump rope to hitting the speed bag, our members never get bored. Our one of a kind 9Round Certification Program provides the franchise owner and their staff with knowledge and confidence."
Unique Business Proposition
Low Investment
Quick Breakeven
Low Overhead
Circuit Training makes it Convenient for the customer
30 Min Full Body workouts
Workouts Change Daily
Trainers included each and every session
World Class Support
2013 and 2014 Franchise 500
Marketing/Advertising and Branding Support
Investor Profile
We are aggressively looking for people who have a passion for fitness and love working with people. Enthusiastic high energy personalities are what make a 9Round location successful. We also provide our one of a kind 9Round Certification Program that gives trainers and owners the knowledge to be confident when working with members. Business, sales, and marketing experience is helpful.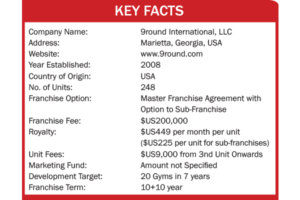 For more information please contact Troy Franklin of World Franchise Associates at troy@worldfranchiseassociates.com or at +60192101909.