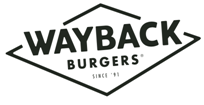 THE WAY BURGERS WERE MEANT TO BE MADE
NEVER FROZEN HAND MADE PATTIES BURGERS FROM AMERICA HAS NOW LANDED IN MALAYSIA.
Wayback Burgers has a long history of success with their fast-casual idea and offering only the freshest and most tempting burgers. Started in 1991, Wayback Burgers was opened in Delaware, USA by John Carter under the name Jake's Hamburger. It was a tremendous success and lead to the beginning of franchising in the early 2000s, introducing their new name which is Jake's Wayback Burgers in the year 2010. Fast forward to end of 2017, Wayback Burges has 155 stores across 29 states in the U.S. With international and domestic agreements included, Wayback has more than 515 commitments to expand worldwide.Wayback Burgers finally opened its doors in Malaysia in July, 2017 at a suburb just 15km away from the vibrant city of Kuala Lumpur, Taman Melawati. Retaining the same freshness and tasty burgers people have long enjoyed in America with some new meals to complement with local tastes, Wayback Burgers Malaysia has garnered a significant number of regulars that just can't resist their scrumptious menu.
The main focus for Wayback Burgers is serving only the highest quality food which comes at a great value. This is to ensure we could serve a wider number of customers and to make sure they keep coming back for our food. Furthermore, Wayback Burgers provides a combination of Fast Casual Dining, in which the food are made the moment customers placed their order, an excellent food at value pricing, fun and interesting packaging combined with our relaxing and laid-back atmosphere.
The never-frozen patty, with wide selection of authentic hand-dipped milkshakes, coupled with innovative modern and classic design of our restaurant will ensure a trendy and fresh experience that could entice customers especially youngsters to bring along their friends and family and dine in with us.
Our company comprises a group of management team that has over 20 years of experience in multiples areas that include retail, marketing and F&B. In addition, we share similar values towards our business partners in ensuring commitment and dedication in which could help bringing Wayback Burgers Malaysia to the hearts of our customers and ensuring only the topmost quality in our menu.
Franchise Info:
Company Name : Wayback Delights Sdn Bhd
Address : No.16-2 Jalan BK5A/2B, Bandar Kinrara, 47180 Puchong, Selangor.
Phone : +603-8082 0002
Website : www.waybackburgers.com.my
Facebook : waybackburgersmalaysia
Year Established : 1991
Country of Origin : United States of America
Contact Person : Christine Lee
Email Address : christine@waybackdelights.com
Type of Business : Fast Casual Burger Restaurant with thick hand-dipped milkshake
Types of Franchise Available : Single, Multiple Unit Franchise and Area Franchise
Size of Units : 1500 Sq Ft onwards
Franchise Fees : Available Upon Request
Franchise Term (years) : 15 years
Royalty : 5%
Marketing / A & P Fund : 2%
Estimated Initial Capital : RM 750,000 – RM 1 mil depending on location and size